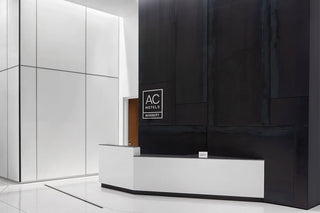 Signscapes Services
In the realm of architectural signage, meticulous planning forms the cornerstone of our approach at Signscapes. We recognize that effective signage is born from a deep understanding of the environment it inhabits and the needs it serves. Our planning process is a collaborative journey, where we work hand in hand with clients to unearth their unique vision and goals.
Beginning with a comprehensive site analysis, we delve into the nuances of the space – its layout, traffic patterns, and visual aesthetics. This information fuels our design thinking, enabling us to conceptualize signage that seamlessly integrates with the surroundings. Our planning phase extends to considering the viewer's perspective, ensuring that each sign is strategically positioned for optimal visibility and comprehension.
At Signscapes, we don't just create signs; we sculpt experiences. We consider the flow of movement, the hierarchy of information, and the context in which the signage will be perceived. This meticulous planning guides us in selecting the right materials, typography, and color palettes that align with the client's brand identity and the project's architectural essence.
From initial sketches to detailed mock-ups, our planning process culminates in a shared vision that serves as the blueprint for crafting signage that transcends the ordinary. Our commitment to thoughtful planning is the cornerstone of every successful project, allowing us to create architectural signage solutions that resonate, captivate, and enrich the spaces they inhabit.
At Signscapes, we elevate the art of architectural signage design, weaving creativity and functionality into every project we undertake. Our design philosophy revolves around seamlessly integrating the built environment with purposeful signage solutions. With a lineage rooted in outdoor architectural products, our expertise extends beyond aesthetics to encompass an understanding of how signage interacts with its surroundings.
Our team of experienced designers at Signscapes possesses a keen eye for detail and an innate ability to fuse form and function. We approach each project as a unique canvas, where we blend sustainable, enduring materials with innovative design concepts. From the inception of an idea to the final implementation, we collaborate closely with clients to ensure that the signage not only complements the physical space but also conveys a clear and engaging message. Whether it's crafting signage for commercial complexes, residential neighborhoods, or public spaces, we bring an unwavering commitment to delivering bespoke designs that resonate with both visual appeal and navigational utility. At Signscapes, we believe that signage isn't just about directions; it's about enhancing experiences and leaving a lasting imprint on the built environment.
Project management lies at the heart of Signscapes' commitment to delivering seamless, exceptional signage solutions. With a foundation rooted in outdoor architectural products, our approach to project management marries innovation with precision, ensuring that every aspect of your signage project unfolds with clarity and efficiency.
From the moment a project is entrusted to us, we embark on a journey of meticulous coordination. Our skilled project managers serve as guides, overseeing every stage from conception to installation. They act as liaisons between our clients and our team, facilitating open communication and a shared understanding of project milestones.
We employ a systematic approach, breaking down projects into manageable phases. Each phase is carefully planned, with timelines and deliverables clearly defined. Through constant collaboration, we ensure that the project aligns with your vision, budget, and timeline. Regular progress updates and transparent communication channels keep you informed and involved at every turn.
Whether it's navigating the intricacies of materials sourcing, aligning fabrication schedules, or orchestrating site installations, our project management team expertly navigates the complexities. Our goal is to eliminate uncertainties and streamline the process, allowing you to focus on the bigger picture while we take care of the finer details.
At Signscapes, our project management philosophy revolves around delivering results that exceed expectations. We understand that every project is unique, and our adaptable approach ensures that your vision transforms into reality through a smooth and guided journey.
Fabrication and curation are the twin engines that drive Signscapes' commitment to crafting architectural signage that stands as a testament to innovation and artistry. With a lineage in outdoor architectural products, we understand that the essence of exceptional signage lies in the meticulous fusion of craftsmanship and creative expression.
Our fabrication process is a dance of precision and passion. Every sign we create is a harmonious symphony of materials, from sustainable metals to enduring woods, meticulously selected to withstand the test of time. Our skilled artisans breathe life into these materials, shaping and sculpting them into works of functional art. With an unwavering focus on quality, our fabrication process is a testament to our dedication to delivering signage that not only meets your expectations but exceeds them.
Curation is the heart of our design philosophy. Each sign is not just a marker but a storyteller, weaving narratives into the fabric of spaces. Our curation process revolves around understanding your brand, your project's architecture, and the message you aim to convey. Every choice, from typography to color palettes, is a deliberate step in creating an immersive experience. Our curated signage isn't just about aesthetics; it's about creating an emotional connection that resonates with those who encounter it.
At Signscapes, we don't just fabricate signs; we sculpt legacies. Our fusion of fabrication and curation transforms raw materials into timeless pieces that leave a lasting imprint on the built environment. With an unwavering commitment to excellence, we invite you to witness the magic of artistry and precision converging in every sign we create.
Navigating the intricate landscape of permitting and regulatory compliance is an integral part of our comprehensive service at Signscapes. We understand that each architectural signage project is a harmonious blend of creative vision and adherence to legal and safety standards. With a wealth of experience in outdoor architectural products, we ensure that your signage not only captivates but also aligns with the codes and regulations that govern its existence.
Our experts are well-versed in the intricate tapestry of local, regional, and national codes. From zoning regulations to accessibility requirements, we meticulously research and analyze the specific codes that pertain to your project. With this knowledge in hand, we work alongside you to ensure that every aspect of the signage design and installation meets the necessary compliance standards.
The permitting process can be labyrinthine, but our team at Signscapes serves as your guiding light. We navigate the bureaucratic maze, liaising with authorities and handling the necessary paperwork with meticulous attention to detail. Our goal is to streamline the permitting process, minimizing delays and ensuring that your project progresses smoothly.
At Signscapes, we recognize that successful signage projects require not only creativity but also a firm grasp of the legal landscape. Our commitment to regulatory compliance ensures that your architectural signage not only shines with creativity but also adheres to the legal framework, resulting in a seamless fusion of artistry and legality that enriches the spaces it inhabits.
Installation is the final crescendo in the symphony of creating architectural signage that leaves a lasting impression. At Signscapes, we understand that the successful realization of your vision hinges on flawless execution, which is why we've honed our installation process to perfection.
Collaborating with a network of trusted subcontractors, we ensure that the installation of your signage is carried out with the utmost precision and care. Our experienced partners share our commitment to excellence, delivering installations that mirror the craftsmanship of the signs themselves.
Throughout the installation process, we maintain an unobtrusive presence, allowing your project to take center stage. Our approach is characterized by seamless coordination, attention to detail, and a deep respect for the environment in which the signage comes to life.
From residential neighborhoods to bustling commercial hubs, our installation teams bring the same level of dedication and expertise to every project. We take pride in the fact that each sign we create becomes a seamless part of its surroundings, inviting admiration while fulfilling its functional purpose.
At Signscapes, installation isn't just a step in the process; it's a celebration of the journey from concept to reality. With our subcontracted installation partners, we ensure that your signage stands tall as a testament to artistry, precision, and the culmination of your creative vision.